"And so we resolved to forge new life, here on planet Mira." -Lin Lee Koo (Xenoblade Chronicles X)
And forge new life this game has. Xenoblade Chronicles X for Wii U manages to live up to the quality of its predecessor while still breathing new life into the series. This game puts emphasis on discovering a new world, and working hard to make it your own.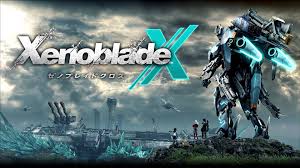 While Xenoblade Chronicles for Wii was a heavily narrative focused game, Xenoblade Chronicles X for Wii U is focused more on exploring the expansive world around you. The storyline takes a backseat this time around to some incredible combat centric experiences on the vast rock of Mira.
From the time you start up the game, Xenoblade Chronicles X reels you in with the intense struggle between warring alien forces that leads to the destruction of Earth. Telling you this story to get you invested is merely the first step in connecting you to this world. As the first bit of exposition is done being given to you, the game allows you to create your character. Character creation is certainly deep, and allows you to truly cater to your own personality. There are a lot of expressive design choices for the character you create, and many options for the voice of your character, even going as far as to cite the voice actors in the options menu. For those who want to relive the glory days, the voice actors for Shulk and Fiora from the first Xenoblade Chronicles are an option as well.
Xenoblade Chronicles X offers a wealth of knowledge and resources for all who are willing to explore. From the start of the game, the vast region of Primordia is open to you. By the time you complete the tutorial missions, you are able to explore the entirety of the first three continents in the game. From the rocky grasslands of Primordia, to the colorful jungle of Noctilum, to the beautiful desert storm of Oblivia, the scenic options are available for all. This is only complimented by the game's stunning visuals. Everything runs at 720p native and is locked at 30fps, for the more technically concerned.
The combat in Xenoblade Chronicles X has been expanded upon in many ways. The new "combat command system" allows you to command other members of your party, and have some control over their behaviors. You can urge them to use a certain type of attack, or focus on a specific type of damage. This adds immeasurable depth to the game, as now, your party members are not simply operating on artificial intelligence. It offers a new sense of player control, and allows battles to flow much more smoothly.
But these are just surface elements. What makes Xenoblade Chronicles X so good is that you truly have access to an expansive world. The storyline of the game is good. The characters are charming, and you get to learn about all of them in different ways, but from a narrative perspective it doesn't even come close to its predecessor. The vast expansive world is what makes this game. There are countless side quests, which give insight into the world's geography as well as the interesting cast of characters. There are also tons of Tyrant enemies to hunt down, which are vastly superior to other enemies of the same species. You'll struggle with them, but exploring various strategies to hunt them down really pushes you in ways you may not have expected.
Another unique thing about Xenoblade X that separates it from most JRPG's is that it offers over a dozen optional party members. These are people that you can recruit and train to fight alongside you in side quests and story missions. A lot of them are very vibrant unique characters that you want to learn about. This game m
asters world building, but makes you work for it. You can't get all of your answers unless you're willing to fight and explore.
Few things in games feel as good as the first time you get to operate a Skell. This huge world that seemed to have control over you is now bowing at your feet as you pilot a massive mech at high speeds. Skells are instrumental to the later parts of the game, and yet, very difficult to keep track of. The "Skell Insurance" thing that the game uses is pretty bogus. It's a system in place that allows enemies damages and destroy Skells, which feels quite unforgiving, given that you can encounter enemies up to fifty levels higher than you. Skell combat also feels slightly less interesting than ground combat. They added some features to mix it up, like the cockpit reset function, which makes cooldown on your moves disappear completely.
For fans of the original, you may be disappointed by a few things. I for one, was unhappy about the lack of "Talent Arts" from the original game. You'll also be sad to know that the nopon Tatsu, lacks any of the charm that Riki had in the original game. He is quite frankly, a nuisance.
Minor inconveniences include the scarcity of resources necessary for "Skell Development" for later parts of the game. The Gamepad manages all map functions, so if you're like me and prefer the pro controller, sorry. The game is playable without the Gamepad but takes a major dip in quality.
That being said, this game is full. It is enjoyable and atmospheric. It has story, tight combat and wonderful overworld mechanics. This is certainly not a direct sequel. Xenoblade Chronicles X is its own entity, and it truly manages to succeed as that. Xenoblade Chronicles X is a vast RPG, and truly another masterpiece in a long line of Monolith Soft's spectacular creations. If any Wii U owner is looking for a new adventure, or simply for a cool action packed title, Xenoblade Chronicles X is the game for you.
That being said, this was my post for the day! This is definitely a game that I think all Wii U owners should try. It bridges a lot of elements together that you wouldn't expect to work. I hope some of you noticed that there's a new page on the site for the podcast! Check it out if you haven't already!
For more on games like Xenoblade Chronicles X and other deep RPG experiences, come back soon for more from the GAME ROOM!!!